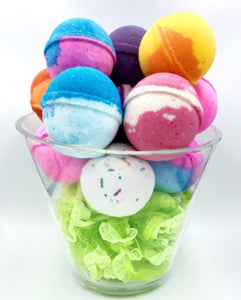 Bath Bomb quick order item for $60.00. Bath Bombs are Made in the USA. Includes A variety dozen of our beautiful bath bombs, and a panty lace loofah.
"Don't send flowers, Send Bath Bombs"
It will look dazzling and smell beautiful sitting in any bathroom. We will pick a beautiful selection for you. We pick for you as if we are picking for ourselves.
The Bath Bombs vary, but they are pretty, colorful and fresh.
Select if you don't want stickers on the bombs. Or, If you like our cheeky, sometimes a little naughty names on the bath bombs. Our names are fun. 
Vessel not included. We recommend a plastic vessel for the bathroom.