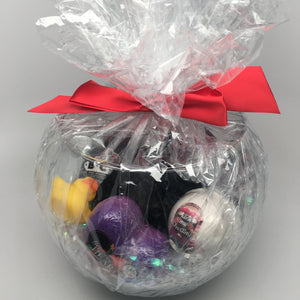 Bath Bomb Gift Bowl. Made in the USA. The fish gift bowl will be full with 8 bath bombs. Makes an excellent gift for any occasion. Send a bowl of Bath Bombs instead of flowers.
We decorate bathrooms with these too
We pick an assortment of colorful Bath Bombs for you. Always Fresh & Beautiful
Loofah and a Little Rubber Ducky Included. 
All natural & Made in America!!
If you would like to add 6 assorted Bath Bombs to your order, Click below
https://www.itsthebomb.com/products/copy-of-gift-bowls-full-of-bath-bombs-1