Heighten sensation and increase pleasure with simply Aqua- a clean, water-based lubricant that's slick, sensual, and never sticky. Free of Glycerin, Propylene Glycol, and Parabens- Simply Aqua is also Vegan, Cruelty-Free, and enhanced with Wicked's signature antioxidant-rich Olive Leaf extract for its moisturizing and biostatic properties. When looking for a clean lube... do it simply. 
Save $.50 per bottle when you buy 3 bottles. Save $1.50
Save  $1.50 per bottle when you buy 6 bottles. Save $9.00
Great for all types of play
Easy cleanup
Latex friendly
Safe for use with all toy materials
pH balanced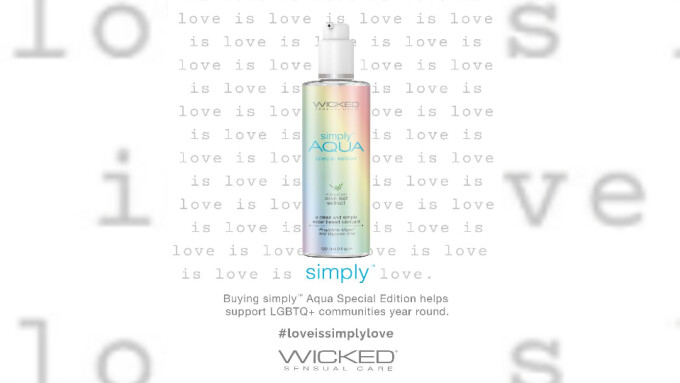 LOS ANGELES — Wicked Sensual Care has announced the launch of a new reseller support portal for its 'simply Aqua Special Edition' water-based lube created to support LQBTQ+ organizations.
A rep said the portal includes digital and printable one-sheets with high-res artwork for merchandising support; suggested messaging, including the social media hashtag #loveissimplylove; and a curated list highlighting domestic and international calendar dates that observe and focus on LGBTQ+ history, awareness and celebration.
A percentage of the proceeds from the sale of "simply Aqua Special Edition" is donated to LGBTQ+ organizations and communities in perpetuity, noted the rep.
"Every year millions of people are helped by these groups and it's a great honor to be able to pledge continual support," they added. "As allies and accomplices, our support of the LGBTQ+ community is constant, and our Pride is active year-round."
All products in the "simply" line of lubes are water-based and include the company's signature olive leaf extract without propylene glycol or glycerin and are 100% vegan, cruelty-free and paraben-free.